This post may contain affiliate links. Please read our disclosure policy for more information.
Every woman enjoys celebrating the holidays by having her nails glammed up with Christmas characters like the fuzzy green Grinch.
There's really no wrong way to get your nails ready for the holidays, but if you're looking for some Grinch nail inspiration, we've gathered the prettiest and cutest designs for you to try.
Here are 20 Festive Grinch nails that will steal hearts away. We also have these red sparkle nails with glitter that will make the perfect winter-themed, or even February Valentine's Day, nail ideas for you to experiment.
Also, here is a super helpful YouTube video by Talia's Nail Studio on How To Do Grinch Nail if you're looking for a visual tutorial.
We hope you enjoy this round-up of the best DIY Grinch nail art!
If you're looking for more Christmas Grinch DIY inspiration, then be sure to check out these posts:
Don't forget to pin this DIY Grinch Nail Art Ideas on Pinterest!
1. Blue and White Grinch Nails
Source: britniesue_filesbyless
2. Beauty Within Grinch Nails
Source: Beauty Within Nails
3. White Frosty Grinch Nails
Source: malishka702_nails
4. Holiday Green Grinch Nails
Source: misashton
5. Sparkly Red Grinch Nails
Source: Kalisnap
6. Grinch and Max Nail Art
Source: imnailtrendy
7. You're a Mean One Mr. Grinch Holiday Nails
Source: Cosmetic Proof
8. Candy Cane Grinch Nails
Source: x.deadly.claws.x
9. Green Grinch Free Hand Nail Art
Source: CDB Nails and Beauty
10. Frosted Pretty Pink Grinch Nails
Source: candynailbar
11. Free Hand Black Grinch Nails
Source: PiggieLuv
12. Frosted Red Grinch Nails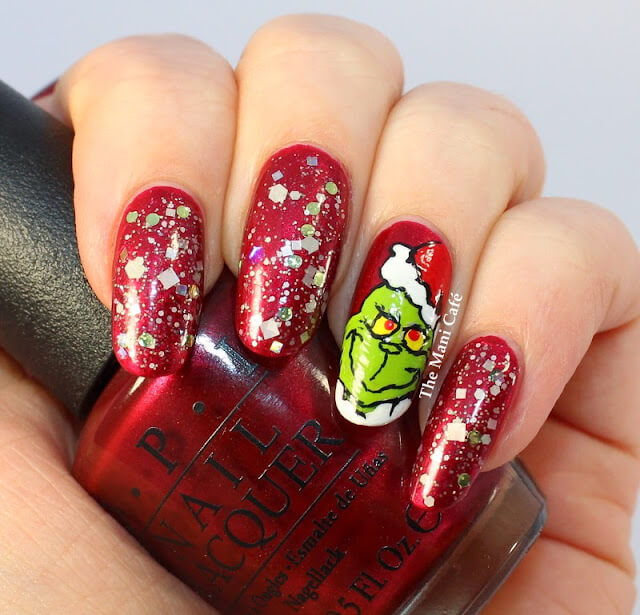 Source: The Mani Cafe
13. OPI Festive Grinch Nails
Source: NailsbyCambria
14. Jindie Nails Grinch and The Grinch Art
Source: Casual Contrast
15. Green and White Grinch Holiday Nails
Source: home_of_deva
16. Grinch Hand Nails
Source: nailsbysable
17. Holiday Grinch Nails by Cookiee
Source: Nails By Cookiee
18. Sparkly Red and Green Grinch Nails
Source: studiofiftyonenailbar
19. Long Red Grinch Nails
Source: houseofpolishz.goldcoast
20.  Red and Golden Grinch Nails
Source: aimieposh_teamfuzion