This post may contain affiliate links. Please read our disclosure policy for more information.
We're going to explore many creative ideas for giving money as a Christmas gift because let's face it…
Holiday shopping can be a challenge.
No matter how hard you try to plan or prepare, there's bound to be a few people on your shopping list that you wait until the last minute.
As retailers get busier with long lineups and shipping from online stores delay their deliveries, you choose to gift cash or even free gift cards with PayPal options as one of the last resorts.
I mean, who doesn't like cash?
Most kids, teenagers, young adults, and even senior folks appreciate the gift of cash.
The truth is as much as we all get excited opening a Christmas gift or surprise, those bottles of wine, boxes of Christmas chocolates, and snacks along with a bag of knickknacks aren't something we truly want, so it's just easier to gift cash.
Especially for the picky ones, money is the perfect gift to give and everyone wants those few extra dollar bills in their wallets to spend on whatever they want – it's so easy and everyone saves time!
You bet we can all use a bit of spending money for the upcoming New Year! 😉
The only problem is that giving money or hard physical cash can make you look unthoughtful and lazy – don't be that person who quickly stuffs cash in a boring white envelope.
Instead, one option is to use these cute money gift holders (yup, it's specifically for cash gifts) if you want to gift cash in a presentable way.
Click here to buy or learn more about these money cardholders from Amazon.
Fun Money Gift Ideas For Christmas
In addition to putting cash into a pretty envelopment along with a letter, there are many other creative and crafty ways to gift money this Christmas.
Just because you're giving something that's practical, doesn't mean it has to be boring – there are many fun ways to give money!
That's why we came up with a clever list of money gift ideas for Christmas, so you won't feel bad giving out cash this holiday.
If you're a crafty one, or you want to learn a new crafting skill and have some fun stacking those dollar bills, then these ideas will make you want to give more cash instead of shopping for each individual person.
Here's how to gift money for Christmas and still be appreciated by your friends and family.
Within this list of creative money gift ideas, you'll find gifts for people of every age group to enjoy. We've also included ways to gift money to adults too, from acquaintances to best friends and even your mom and dad.
The best part is these money gift ideas work for any special occasions too such as birthdays, weddings, graduations, and more!
There's no limit to giving money, so go ahead and have fun with these money gift ideas for Christmas this year!
1. Money Gift Holders
Aside from gift cards, you can also slip cash into these pretty little gift cards/cash holders – the best part is they look like they're handmade! You can't get any more practical and useful than this!
Click here to buy or learn more about these gift card cash holders from Amazon.
2. Money Maze Puzzle Box
If you're looking for mysterious and unique money gift ideas for Christmas, then this cool little Money Maze Puzzle Box is perfect for any occasion – including Birthdays and even Graduations.
You can put any surprises in here and still make the receiver excited to open their gifts. Especially when cash or gift cards can seem like last-minute gifts, this small puzzle game box will make your cash gift one of the most memorable ones!
A smart idea is to stock up on these and use them when you don't have time to shop for gifts!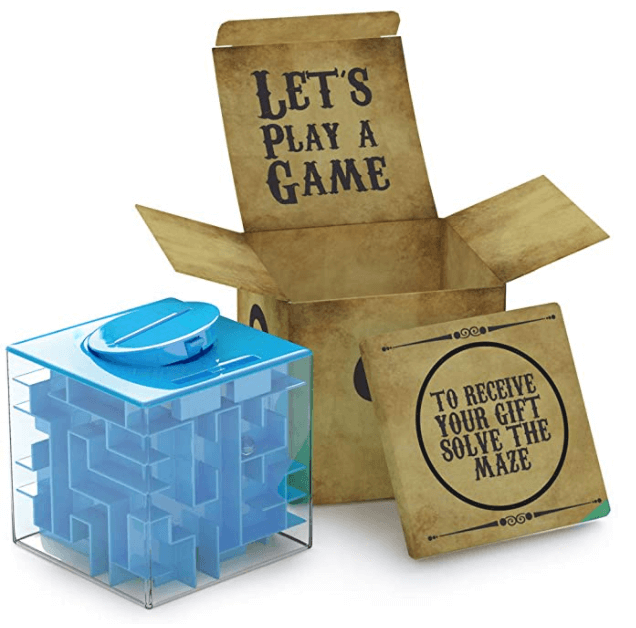 Click here to buy or learn more about this Money Maze Puzzle box.
3. Surprise Money Gift in a Spam Can
A truly "meaty" surprise for your loved ones! This Christmas, tap into your inner jester with an unexpected financial surprise!
Picture this: their puzzled faces as they unwrap a sleek, gleaming SPAM can. Eyebrows rising, the corners of their mouths curling with forced gratitude.
"Thanks for the… SPAM?" they'll say, in that lovely tone of faux enthusiasm.
But oh, the plot thickens! Wait for the shocked gasps as they twist open the can, only to be met not with canned mystery meat, but a trove of crisp dollar bills. Because nothing screams festive spirit quite like defying expectations with canned monetary surprises!
4. Money in a Fancy Chocolate Box
Unleash the ultimate Christmas confectionery con this year, but not with sweets!
Instead, present them a classic box of chocolates, seemingly ordinary yet intriguingly weighty. Delight in their anticipation, as they slowly unwrap, dreaming of the luxurious truffles within. But the real surprise lies beneath the lid!
Rather than an array of delectable treats, they discover a surprise of neatly arranged cash. "Thought you could use some guilt-free chocolates," you'll say, twinkling with festive mischief. A giddy chuckle ensues.
Because, in the sweetest twist of events, these are chocolates that won't melt in their pockets, but certainly burn a hole!
5. Money Butterfly
Surprise them this Christmas with a special butterfly. But this isn't just any butterfly, it's a money butterfly!
Can you just picture their happy faces when they get a neat, tiny butterfly?
But then see their surprise when they open it and find it's made from dollar bills! It's a fun way to give money and makes a great joke too.
"Money doesn't grow on trees, but it does fly!" you can tell them. It's not just a gift, it's also a fun game. Christmas becomes more exciting when money turns into a beautiful butterfly!
6. In Case of an Emergency…
Make them laugh this Christmas with a funny money gift.
I've actually made one of these a couple of times in previous Christmases and saw their surprise when they unwrapped their present to find a small glass box with money inside!
The box had a funny note saying "In case of emergency, break glass." They couldn't help but laugh at the joke. "Well, I never thought I'd need to break glass for pizza money!" one of my friends said.
It's a silly and fun way to give a gift that's sure to put a big smile on their face – and maybe even save the day when they're craving a late-night snack!
7. Fortune Cookie Money
Receiving a fresh dollar bill is certainly nice, but imagine getting a collection of them artfully shaped into a fortune cookie! Now, that's an innovative gift idea.
This creative proposal, inspired by Project Denneler, nudges you towards the multitude of video guides available online on how to craft your cash into these unique, edible-looking delights.
Not to mention, unearthing these money-made fortune cookies surely beats depending on the vague predictions scribbled on actual fortune cookie notes, right?
After all, who needs elusive lottery numbers when you've got a tangible, fun and 'fortunate' gift!
8. Money in a Pretty Piggy Bank
Gifting money can be thoughtful when you pair it with this beautiful ceramic piggy bank and insert a few dollar bills and coins in there!
With this piggy bank, they'll feel like the King or Queen of saving money!
What a perfect way to gift cash and encourage kids, teenagers, or even young adults to start a savings fund for the New Year!
Click here to buy or learn more about this ceramic piggy bank from Amazon.
9. Money Rosette
Fold several pieces of dollar bills and create this beautiful money rosette. Anyone would love to receive one of these for Christmas to wear and display.
10. DIY Money Christmas Tree Gift
If you love crafts, then you'll love these DIY Money Christmas Trees! If you want to gift $100 in cash, then simply fold five $20 bills and present them on a stick to represent a pretty little Christmas tree.
If you want to gift $50, then fold five $10 bills and attach them to the stick. Add a shining star at the top and pair it with a homemade or store-bought Christmas card!
11. Money Gift Ornament DIY
Another great money gift idea to give out for Christmas are these cute DIY gift ornaments. Just roll some cash and put a few pieces of chocolates in there and TA-DA, you have your gift all ready!
12. Money Topiary Gift Idea
One crafty and special way to gift cash is to make this DIY Money Topiary. Instead of giving a real plant, you can give the gift of cash in a form of a plant.
13. Make a Money Tree Gift
Here is another way to gift money in a form of a plant – create a special DIY money tree with real dollar bills!
14. Christmas Money Gift in a Handmade Jar
Mason jars are awesome and for good reason.
There are many crafty and budget-friendly ways to decorate your mason jars for the Christmas season that will allow you to fill it with coins and dollar bills.
Not only are these mason jar money gifts perfect for Christmas, but they totally work for Graduations, weddings, birthdays, and other special events.
You'll also want to check out these cool and crafty Christmas mason jar gift ideas here. You can always fill them in with cash along with other small goodies and treats!
15. Money Balloon
What a cool way to gift money – inside the balloon!
Watch the recipient get spooked, but at the same time excited, by popping these balloons for their money!
16. Money Gift in a McDonalds Fries Cup
For the McDonald's French Fries lover (I mean, who doesn't love their classic fries?), you can fold those dollar bills into the form of a French Fry.
To add some more fun, you can insert a McDonald's gift card in there as a bonus!
You should also check out these awesome ways to get free $50 gift cards and PayPal cash online.
Source: Pinterest
17. Oh Deer!
This bow-tie dollar bill attached to a glittered reindeer is ready to make the season Merry and Bright…
The recipient will love and appreciate this quick and simple money gift idea!
18. DIY Candy Coins Money Gift Idea for Christmas
Fool the recipient into thinking they're just getting a pile of Christmas candies.
You'll love the look on their face once they open them up to find a stack of coins and rolls of dollar bills, baby!
19. Money Gift Idea in a Pizza Box
If you're looking for some fun money gift ideas, then gift it in the form of a pizza box. This will make the perfect money gift to those who are obsessed with pizza – at least there's a meaning behind the gift.
The pizza lover will likely use that money to buy many boxes of their favorite pizza next year. Now, isn't that more thoughtful than gifting a boring gift card to their favorite pizza joint?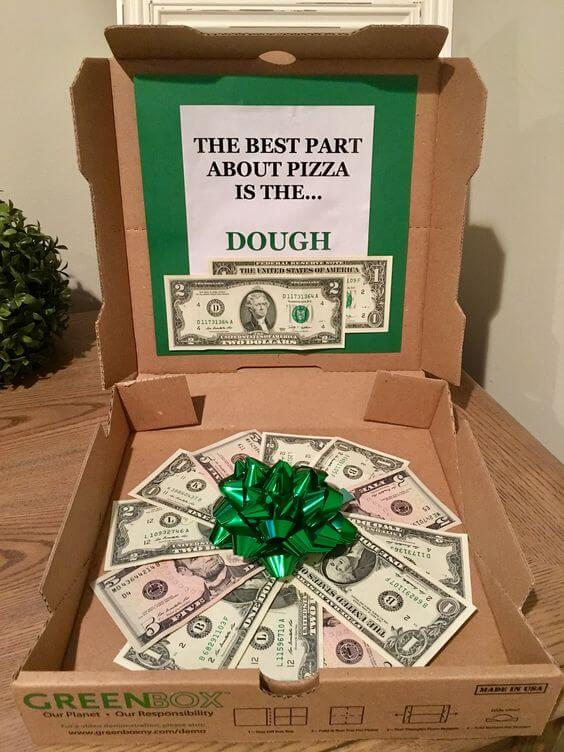 Source: Pinterest
20. Money Cake Gift Idea
There are tons of tutorials on money origami and crafts you can find online.
Here is another crafty and unique way to give money to your friends and family this year – they'll sure have fun counting how much money there is in this crafty project!
Creative Ways To Give Money For Christmas
We hope you enjoyed this post on the best money gift ideas for Christmas.
As we said, these also work for other special occasions and you're not limited to just the Christmas holiday.
The great thing about gifting money is it's, for one, practical and useful. Secondly, it will save you time from lining up at those shopping malls, and lastly, the recipient will actually love the cash especially when it's presented in these forms of creative ideas.
Believe it or not, your gift of cash will be the best present they'll ever receive!
Let us know in the comments which money gift ideas are your favorite!