This post may contain affiliate links. Please read our disclosure policy for more information.
Winter is almost over and we all can't wait for Spring to arrive!
With the Easter holiday coming up shortly, we decided to gather a list of the best Pinterest Easter crafts for adults. By the way, we also have a separate post on the best and cutest Easter crafts for kids to make. We guarantee you'll LOVE these ones too!
These hand-picked crafts are super easy and fun to make with the family and kids at home.
If you love Easter as much as we do, then you're going to enjoy this post on the most creative crafts and decorations to make over the weekend.
To get started, all you really need are some quick and simple art supplies from the craft stores or your local Dollar Store.
If you're worried about the level of difficulty, we'll tell you in honesty that it doesn't matter if you are an experienced craftsperson or a total beginner who just wants to have some fun and get their hands dirty over the weekend. There are tons of creative Easter Bunny and Egg craft ideas that you can make beautifully and flawlessly regardless of your skill in creative arts. We promise you that any beginner can do this – especially the ones on this list! 
The great thing is that once you're done with these projects, you can use them as decorations for your home to make your place feel cheery and springy for the holiday!
Speaking of Easter decorations, don't forget to check out these beautiful and stylish DIY Easter wreaths for your front door that you can make on a low-budget! 
All these craft ideas are classy and super cool. In fact, your guests and neighbors will be fooled to think that you purchased these from the hand-made craft stores!
Alright, here is our list of the best hand-picked cheerful Pinterest Easter crafts for adults to make! 
We hope you enjoy making these fun and adorable crafts as Spring hits the corner!
Don't forget to click and save THIS Pin HERE on the best Easter Crafts For Adults To Make on Pinterest – that way you can always refer back to this page to easily grab your Easter craft ideas!
Click on this image below and Pin it!
1. Peeps Mason Jar for Easter
Get tutorial from Mason Jar Crafts Love.
2. Handmade Curious Bunny Pots
Get tutorial from Southern In Law.
3. Giant Bunny Balloons
Get tutorial from One Little Project.
4. Cute Easter Bunny Corner Bookmark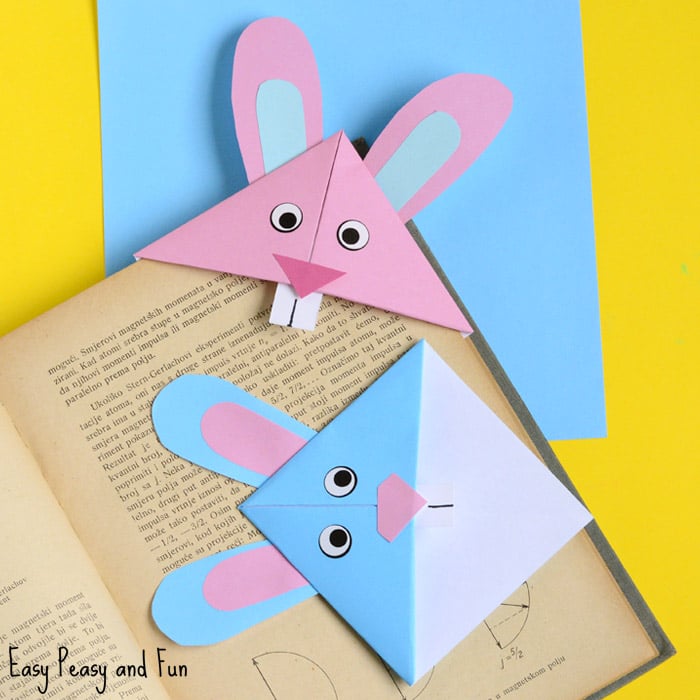 Get tutorial from Easy Peasy and Fun.
5. DIY Emoji Easter Eggs
Get tutorial from Studio DIY.
6. DIY Party Garland Web
Get tutorial from Tell Love and Party.
7. DIY Easter Egg Bath Bombs
Get tutorial from A Pumpkin and a Princess.
8. Easy Foam Cup Bunnies for Easter
Get tutorial from One Little Project.
9. DIY Recycled Easter Bunny Vases
Get tutorial from Weekend Craft.
10. DIY Bunny Decor with Popsicle Sticks
Get tutorial from Make & Do Crew.
11. Easy and Fun DIY Tissue Paper Eggs
Get tutorial from Fireflies and Mud Pies.
12. DIY Easter Wreath Craft
Get tutorial from The House That Lars Built.
13. Irresistible Bunny Bait Mason Jar Crafts
Get tutorial from Clean & Scentsible.
14. Lindt Chocolate Rabbit Crochet Easter Crafts
Get tutorial from KNITTEDSTORYBEARS.
15. Stand Up Paper Easter Eggs
Get tutorial from Little Miss Celebration.
16. Terra Cotta Pot Carrot Easter Gift Idea
Get tutorial from Smart School House.
17. Easter Egg Button Craft
Get tutorial from A Cultivated Nest.
18. K-cup Easter Chick Craft
Get tutorial from Midwestern Moms.
19. Easter Bunny Mason Jar Treats
Get tutorial from Happiness is Homemade.
20. DIY Easter Chick Crochet
Get tutorial from Spin a Yarn Crochet.
Final Words on Easy Easter Crafts For Adults
As you can see, these beautiful Easter arts and crafts projects will make the holiday so much more fun and festive for your family and kids. 
From painting simple mason jars to decorating fun emoji faces on Easter eggs, there's a special and fun craft for every adult to have fun with!
I hope you enjoyed this list of the best Easter crafts for adults! let us know what your favorite craft is from this post. 
Share your Easter ideas below!